Meet Our Team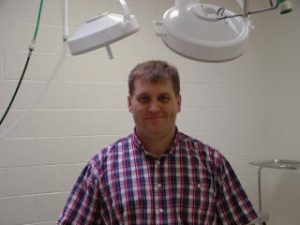 Dr. Eric Haeker
Eric, the youngest son of Darrell and Linda, was born in Pella, Iowa and moved with his parents to Saint Joseph shortly after his birth. . Eric became interested in veterinary medicine at a young age while accompanying his dad on emergency calls. He obtained his Animal Science degree from Kansas State University, and four years later obtained his degree in Veterinary Medicine from University of Missouri. Eric married Shelly and they have two boys; Austin and Cody. He joined the family practice at Countryside in 1996. He is a member of Ducks Unlimited, The National Wild Turkey Federation, and The Rocky Mountain Elk Foundation. Eric's hobbies include hunting and coaching football in Savannah, MO. Eric and his family are active at Saint Peter Lutheran Church.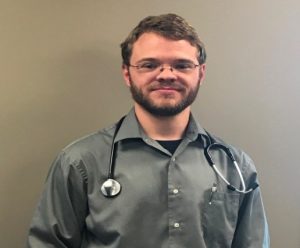 Dr. Brad Reynolds
Dr. Brad Reynolds joined our team as a doctor in 2014. He completed his undergraduate studies in health science at Missouri Western State University. Afterwards he received his degree of veterinary medicine at the University of Missouri. Brad spent his undergrad years working as a kennel attendant and assistant here at Countryside since 2007. During the summer breaks he spent many hours with his grandfather's mixed animal practice in Cookeville, TN. Dr. Reynolds is a football fan and he tries to attend as many Missouri Western Games as possible each season. Dr. Brad also enjoys time with his cat (OCIE).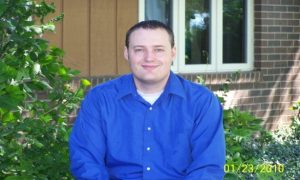 Dr. Kyle Ripperger
Dr. Kyle Ripperger joined our team as a doctor in 2009, but has been a part of the clinic's team since 2000. He attended Kansas State University for his undergraduate study and earned his degree in veterinary medicine from the University of Missouri. He is an avid outdoorsman who loves to go camping, hunting, and fishing. Dr. Kyle is happily married to his wife Becca and they have a daughter named Vada. They are active at Wellspring Community Church. They have three pets, a Labrador (KJ), a papillon (Jasper) and a cat (Louie). GO WILDCATS!!!! Dr. Zachary Houston
Bio coming soon!